Sport Pilot Training Center
UNFORTUNATELY DSFI HAS NO LIGHT SPORT AIRCRAFT LEASED BACK AT THE CURRENT TIME AND IS UNABLE TO PROVIDE LIGHT SPORT TRAINING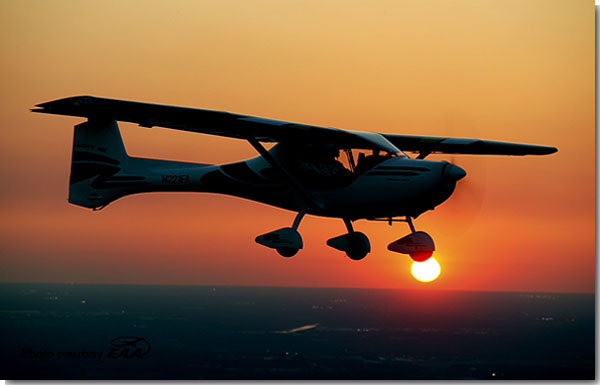 In July, 2004 the FAA announced the implementation of a new pilot certificate and a new type of airplane certification. The Sport Pilot Certificate offered a way for pilots to obtain a pilot certificate with a much smaller investment of time and money, and further, it did not require a medical certificate, as all other pilot certificates did. Airplanes that weighed less than 1320 pounds and flew no faster than 120 knots basically fit the new airplane certification rules.
| | |
| --- | --- |
| And thus the Sport Pilot Certificate and Light Sport Aircraft were born. As of this writing there are now over forty Light Sport Aircraft (S-LSA) on the market, not to mention the numerous "legacy" airplanes such as the Cub and Champ, that meet the Light Sport Airplane requirements. And although there are numerous airplanes that fulfill the Light Sport requirements, there are very few flight schools where a pilot can go to obtain the training for the certificate. There are even fewer places where a pilot with a Sport Pilot Certificate can rent an S-LSA airplane to utilize their newly earned certificate. | |
| | |
| --- | --- |
| | DSFI is happy to say that at our SPORT PILOT TRAINING CENTER, located at the Columbia County Airport (1B1), we can provide you with the training for the Sport Pilot Certificate, and then have aircraft available for you to rent after you finish your training. In partnership with L and L Light Sport Aviation, we can train you for the Sport Pilot Certificate in either the "SportCruiser" from Sport Aircraft Works, or in the "Fantasy Air Allegro 2007". Both of these aircraft are excellent training airplanes, with fantastic performance and handling qualities. ( See SportCruiser Specs ) ( See Allegro 2007 Specs) |
The Federal Aviation Regulations only require a minimum of twenty hours of flight training experience to obtain the Sport Pilot Certificate. There have been many folks who have expressed concern that this can hardly be enough training to prepare a pilot with the requisite skills, both stick and rudder, as well as decision making, for keeping them safe. We at DSFI concur with that concern, and have thus devised a syllabus that will train the pilot to a standard that is much higher than the Practical Test Standards.
Incorporating the recommended practices of the " Light Sport Aviators Model Code of Conduct " as well as the scenario based training concepts as used in many "FITS" (FAA / Industry Training Standards) programs, pilots that complete their training for the Sport Pilot Certificate with DSFI will be superbly prepared for the challenges of flying safely in today's airspace. This training should take the typical pilot approximately 25 – 35 hours to complete, which is still well below the national average of 65 – 75 hours typically spent to obtain a private pilot certificate.
To insure that the pilot's training is meeting the DSFI standard, Doug Stewart will conduct "stage checks" prior to the client's first solo flight and first solo cross-country flight. And since Doug is a Designated Pilot Examiner, he will also conduct the final Practical Test for the Certificate.
If you are interested in obtaining a Sport Pilot Certificate, (or wish to return to flying, using your private pilot certificate, but operating under the Sport Pilot Regulations without a medical certificate) and want the VERY BEST training available in a GREAT Light Sport Airplanes, the DSFI SPORT PILOT TRAINING CENTER is the premier place to obtain that training!
Scheduling disabled at this time
For more information contact us at: info@dsflight.com, or call: 413-281-6788.